Return to archive
title
Model Haarlemmerplein
submitted by
Dick van Gameren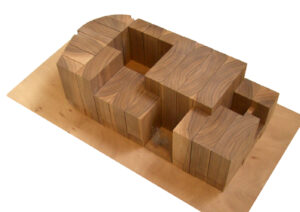 The structure of the city is the expression of cultural codes and conventions, of relations between private and public space, and between individual and collective interests.
This design for 67 apartments, commercial spaces and underground parking was for a location on the edge of the 17th-century western part of central Amsterdam. To anchor the project in its site and broader context, the design draws on historical patterns of parcellation, housing and courtyard typologies, and material expressions that can be found in Amsterdam's historic core.
These 'tacit' references to historical urban forms and types are expressed in this conceptual wooden model.
Submitted by
Dick van Gameren is a professor and dean of the Faculty of Architecture and the Built Environment at TU Delft in The Netherlands, and partner at Mecanoo Architecten. He combines his work in practice with education and research. In 2014 he initiated the Global Housing Study Centre, a global network on affordable housing design.
This object is part of the TACK Exhibition "Unausgesprochenes Wissen / Unspoken Knowledge / Le (savoir) non-dit", in the section "Codes and Communities".