Return to archive
title
Texture Kortrijk – Jewel Box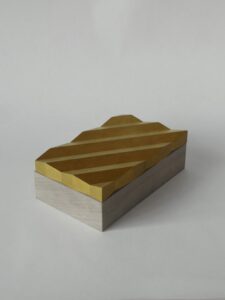 Wooden model (1:400), representing an existing warehouse and its extension.
The orthogonal cast-iron column structure of the existing building is continued in the lightweight steel building on top. The new beams connect the column grid diagonally and at two different heights. The result of logical structural thinking is an unexpected golden crown.
The Texture Kortrijk museum celebrates the prosperous past of the flax industry in the region that used to give the Scheldt river a golden shine.
Submitted by
An Fonteyne runs the Brussels-based noAarchitecten together with Jitse van den Berg and Philippe Vierin. The office has developed a strong interest in reflecting on the potentials of re-use, whether newly built or already existing. An is Professor of Affective Architectures at ETH Zürich.
This object is part of the TACK Exhibition "Unausgesprochenes Wissen / Unspoken Knowledge / Le (savoir) non-dit", in the section "Codes and Communities".