June 22, 2022
TACK Talk #3 – Final Lecture
Prof. Dr. Tim Ainsworth Anstey – Oslo School of Architecture and Design and Prof. Dr. Jennifer Mack – KTH Stockholm will give the fifth and final lecture of the TACK Talks #3 series.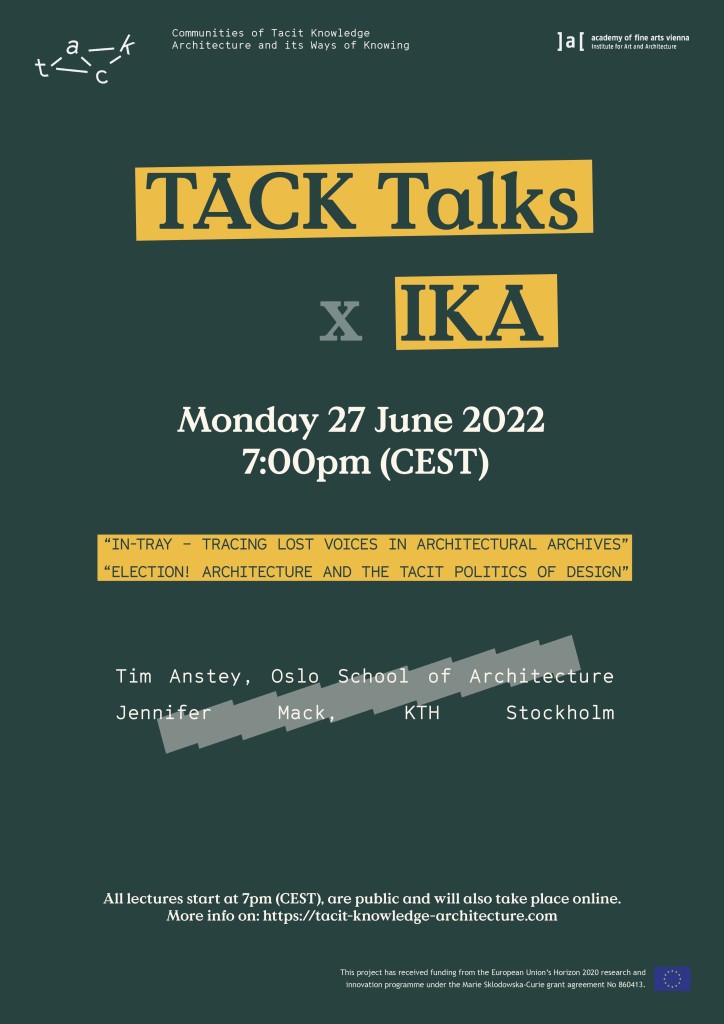 Watch the Lecture live on our Youtube.
"In-tray" – tracing lost voices in architectural archives – Tim Ainsworth Anstey
The lecture provides a thicker reading of an architectural project through searching the fringes of project documentation to reveal the results of will I would call "tacit information" – information that shapes concrete design decisions and that is shared through rather invisible, not openly stated or explicitly unstated means between a group of actors. The case is related to the architectural projects of the Warburg Institute and to the work of Gertrud Bing, assistant director and then director of the Institute, as a client agent for these.
Tim Anstey is an architectural historian. He is Director of the PhD Programme at the Oslo School of Architecture and Design in Norway, and a member of OCCAS, the Oslo Centre for Critical Architectural Studies. Anstey's research interests lie at the interface between architectural authorship and technological process, with a special interest in how mediation in architecture effects those relationships. His books include Architecture and Authorship (Black Dog, 2007, co-edited with Katja Grillner and Rolf Hughes), Images of Egypt (Pax Forlag, 2018, co-edited with Mari Lending and Eirik Bøhn) and, forthcoming, Things that move. A hinterland in architectural history (forthcoming with MIT Press, 2024).
Election! Architecture and the Tacit Politics of Design – Jennifer Mack
"Now, we'll get Sweden in order!" This phrase, used by the right-wing Moderate Party in Sweden, is the campaign tagline chosen for the upcoming Swedish elections on September 11, 2022. Many parties have emphasized safety, security, and environments free of crime in their campaign promises. Intriguingly, the built environment features heavily in several party platforms, where "vulnerable areas" (utsatta områden) – areas that the Swedish Police have defined as in need of extra assistance – will be eliminated. In this talk, Mack focuses on the intersection of politics, elections, and architecture to call attention to how housing, neighborhoods, and public spaces have become, implicitly, scapegoats for structural social problems beyond the scope and scale of design through a close look at political language. When Swedish politicians suggest the need for new buildings, landscapes, and renovation projects in "vulnerable" neighborhoods, they often use design as shorthand and suggest, tacitly, that doing away with problematic buildings will also do away with social problems. Analyzing rhetoric and proposals that Swedish politicians across the spectrum have included in campaign platforms for 2022, Mack considers how architecture has become a tacit symbol for other political agendas, as well as the human and environmental costs of such approaches.
Jennifer Mack is Associate Professor at KTH Stockholm. Broadly, Mack's work research lies at the intersection between architectural history, anthropology, and the environmental humanities. Mack's book The Construction of Equality: Syriac Immigration and the Swedish City (University of Minnesota Press) received the Margaret Mead Award in 2018. She has co-edited the anthologies Rethinking the Social in Architecture (2019) and Life Among Urban Planners (2020). She holds a PhD from Harvard University and an MArch and MCP from MIT.