June 22, 2022
TACK UCL Report VALUES: Intermediate Meeting
Module 3: 'Projective capacities of tacit knowledge: Contexts, Values and Reflexivity'
The Values Intermediate Meeting Module 3: 'Projective capacities of tacit knowledge: Contexts, Values and Reflexivity' took place on Tuesday 14 and Wednesday 15 June 2022 at 22 Gordon Street in London and was hosted by the University College London's Bartlett School of Architecture within the Situating Tacit Knowledge Research Cluster.
The workshop aimed to support the ESR's by providing them with an opportunity for focused conversations towards refining and completing their research with respect to key academic and scientific doctoral research criteria, examples of post-doctoral architectural experience and precedents of completed architectural doctorates in creative research structures. The workshop was preceded by a small exercise for the ESR's in considering their research contribution to the larger project by writing a set of research questions and reflections as well as a recorded discussion between Professors Margitta Buchert, Lara Schrijver and Peg Rawes on how they understand and are thinking about tacit knowledge in the larger project.  These were carefully compiled into a reader and shared with all attendees.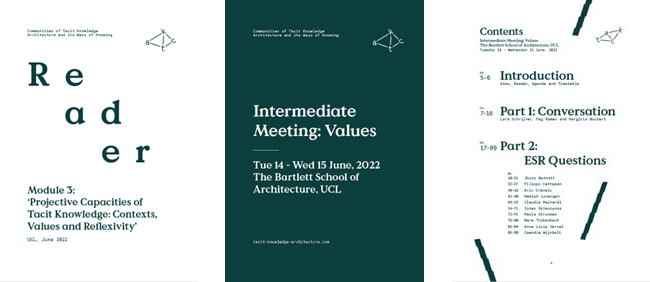 The structure of the 2 day event allowed for relaxed and engaged discussions on the topics concerning the ESR's at this stage of the process and included presentations from established and early career researcher, smaller group discussions in a walk/talk format in London's parks and a rich discussion with physical examples of completed design research and doctorates. Dr. Natalia Romik's work covered an impressive array of projects through her very intimate field work and research practice, and was wonderfully complemented by Professor Jane Rendell's presentation on situated research case studies – which was made available to an international audience and formed a key part of the first day's reflections on creative method and practice.
Day 2 saw Dr. Thomas Pearce unpacking his doctoral and creative practice work across concerns on parallax and photogrammic techniques while Professor Yeoryia Manolopoulou's display of UCL Bartlett's Research Excellence Framework portfolios really set a helpful precedent for what the ESR's are working towards as they enter the final months of the TACK programme.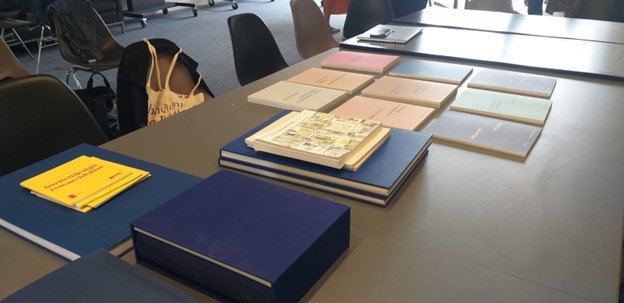 Both evenings were importantly punctuated by lively dinner discussions and reflections on the day's discussions as the workshop was fortunate enough to take place in one of the best weather week's London has seen in some time. In the face of the recent lockdown restrictions the in-person meeting, discussions and important moments of discussion were greatly appreciated by attendees and presenters alike as the academic year winds down across northern Europe and we all enter the summer months of a recently re-opened academic environment.





Report written by Jhono Bennett