Return to archive
title
TACK Final Conference "Tacit Knowledge in Architecture" – Program
presented by
TACK Network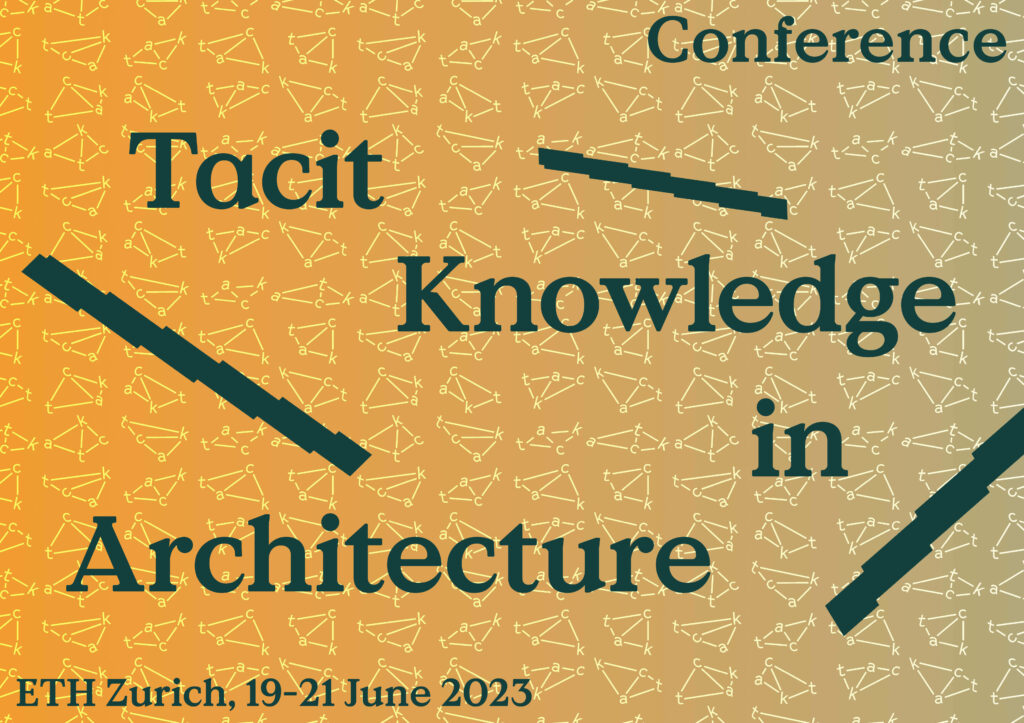 Monday 19 June 2023
11:00 – 12:45
Registration desk open
12:45 – 13:15
Welcome and introduction by Tom Avermaete & Janina Gosseye
13:15 – 14:15
Opening lecture by Elke Krasny
Moderated by Helena Mattsson
With Françoise Fromonot, respondent
14:30 – 17:00
Paper session NATURE(S)
Chaired by Caendia Wijnbelt, Paula Strunden & Jhono Bennett
"Uncommoning: Artistic Knowledge in Architecture", Valerie Hoberg
"Body of Knowledge | Knowing Bodies", Katharina Voigt
"Busy body: living and working in urban renewal neighbourhoods", Soscha Monteiro
"Improvised architectural responses to the changing climate; making, sharing and communicating design processes in rural Bangladesh", Tumpa Husna Yasmin Fellows
"ID – Integrated Processes of Reading and Creating Post-Objects in Digital Design", Angeliki-Sofia Mantikou and Athanasios Farangas
17:30 – 19:00
Tacit Knowledge in Architecture
Book presentation by the TACK ESRs
Moderated by Margitta Buchert & Klaske Havik
With Wivina Demeester & Christoph Grafe, respondents
19:30 – 20:30
"Unausgesprochenes Wissen/Unspoken Knowledge/Le (savoir) non-dit"
Exhibition opening with a word by Tom Avermaete & Janina Gosseye
Statements by Angelo Lunati, Mara Trübenbach, Elli Mosayebi and Kees Kaan
20:30 – 22:00
Apéritif
Tuesday 20 June 2023
9:30 – 11:15
Object session SITE
Chaired by Hamish Lonergan, Caendia Wijnbelt & Ionas Sklavounos
"Chozos, Houses of Nomadic Shepherds", Alba Balmaseda Domínguez
"Maintaining a Wetland", Johanna Just
"Unpacking HERMIA", Mara Trübenbach
"Embodied Knowledge: Eilfried Huth`s Eschensiedlung in Deutschlandsberg, Styria, 1972–1992", Monika Platzer
"City as Forest", Verena Brehm
"Clay landscape". Klas Ruin & Ola Broms Wessel
"Cylinders of Soap, Mud, and Pottery: On Cultures of Making Beyond Architecture", Nadi Abusaada
11:15 – 12:00
Extended Break to Visit TACK Exhibition
12:00 – 13:15
Lunch
13:15 – 14:15
Keynote lecture by Harry Collins
Moderated by Lara Schrijver
With Caroline van Eck, respondent
14:30 – 17:00
Paper session VECTORS
Chaired by Eric Crevels, Anna-Livia Vørsel & Mara Trübenbach
"(Un)Programming the factory: weaving panopticon stories", Fernando Ferreira
"Constructing tacit planning knowledge: political commitment and architectural practice", Elettra Carnelli
"Rooms: Architectural Model-Making as Ethnographic Research", Ecaterina Stefanescu
"Embodiment takes command: Re-enacting Hannie and Aldo van Eyck's homelife", Alejandro Campos
"Revealing the tacit: a critical spatial practice based on walking and re/presenting", Nilsu Altunok
17:30 – 19:00
Object session LINEAGES
Chaired by Paula Strunden & Ionas Sklavounos
"Luc Deleu & T.O.P. office", Sofie de Caigny
"Tesseln and Bâtons à marques: Early records of customary law", Nicole de Lalouvière
"Architectural photography as conduit for tacit knowledge: The Helfenstein archives at gta", Irina Davidovici and Ziu Bruckmann
"Forêt DesCartes", Filippo Cattapan
"The B-Sides. Tupaia, Kybernetes & Lara Croft", Eva Sommeregger
20:00 – 22:00
Conference dinner
Wednesday 21 June 2023
9:30 – 12:00
Paper session ACTORS
Chaired by Claudia Mainardi, Filippo Cattapan & Hamish Lonergan
"Paperwork and Wordcraft: Institutionality at IAUS", Alex Maymind
"Understanding the Roles of Tacit Knowledge in the Collaboration Between AEC: a case study approach", Laurens Bulckaen
"Architecture, Design and Judgment", Hans Teerds
"In Quest of Meaning: Revisiting the discourse around 'non-pedigreed' architecture", Vasileios Chanis
"Turkish Architects' Journeys: Travelling as a Means of Production for Architectural Knowledge and Culture", Hamiloglu Ceren
12:00 – 13:15
Lunch
13:15 – 14:15
TACK Web-publication presentation by Helen Thomas
With Gaia Caramellino, respondent
14:30 – 15:45
Object session SHAPERS
Chaired by Eric Crevels, Mara Trübenbach & Ionas Sklavounos
"Tactiles", Katharina Kasinger
"Infra-thin Magick: An Extended Reality (XR) Ceremony", Paula Strunden
"Playa Blanca, Bankers and the Pivotal Point", Holger Hoffmann
"Concrete Column, Pirelli Learning Centre", Angelo Lunati
16:00 – 17:30
Roundtable and concluding discussion
Moderated by Jennifer Mack & Angelika Schnell
With Paula Strunden, Mara Trünbenbach, Hamish Lonergan & Ionas Sklavounos, session reporters, and with Boris Brorman Jensen, respondent
Venue
ETH Hönggerberg
Stefano-Franscini, Platz 5
8049 Zürich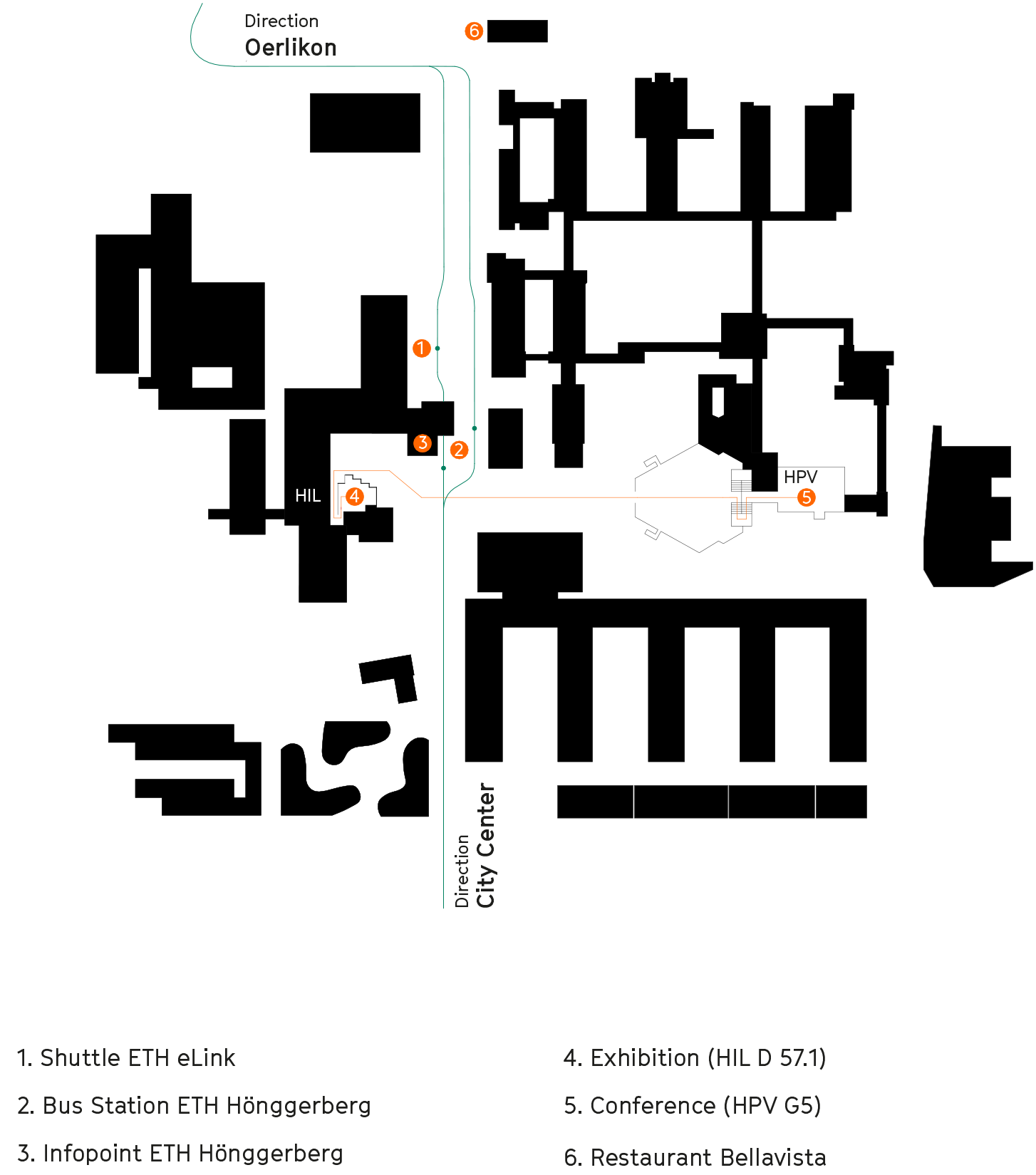 Practical Information
Shuttle
The ETH eLink shuttle bus travels between the Zürich city centre (ETH Zentrum Campus and Haldenegg) and the ETH Hönggerberg campus multiple times per hour. The first services in the morning (from 7:06 am) through to the final services in the evening (until 6:54 pm) depart from and terminate at Zürich Central Station, allowing passengers to connect with train services. This shuttle bus service is available to students, employees and guests of ETH Zürich free of charge.
Public Transport
To purchase tickets for other public transport in Zürich, and to find out how to get from one location to another, please visit the website of the Zürcher Verkehrsverbund: https://www.zvv.ch/zvv/en/home.html 
WIFI
External guests visiting ETH Zürich can access the 'public' or 'public-5' WIFI. Access is provided via registration with a mobile number:
Use your mobile phone to establish an internet connection using the 'public' or 'public-5' WIFI
Enter your phone number and accept the terms of use
Click on 'Request Access Code' to request a code
An SMS will be sent to the given device. This will contain your access code
Enter the code in the 'Your Access Code' field
Click 'Submit Registration'. You will now be connected to the internet.
You can register a maximum of three devices with the same mobile number.
Conference Dinner
The conference dinner will take place at Restaurant LaSalle, Schiffbaustrasse 4, 8005 Zürich.
Please note that prior reservation is required to participate in the conference dinner. If you have not pre-registered for the dinner but if you would like to participate, please check at the conference registration desk if places are still available.
How to get to the Restaurant LaSalle: Take Bus 69, towards Milchbuck, from the bus station ETH Hönggerberg, and exit at Bucheggplatz. Take Bus 72, towards Morgental, from the bus station Bucheggplatz and exit at Schiffbau. The Restaurant LaSalle will be right below the viaduct on which the bus stop is located.