Return to archive
title
morethanone(fragile)
Author / Creator
Helen Thomas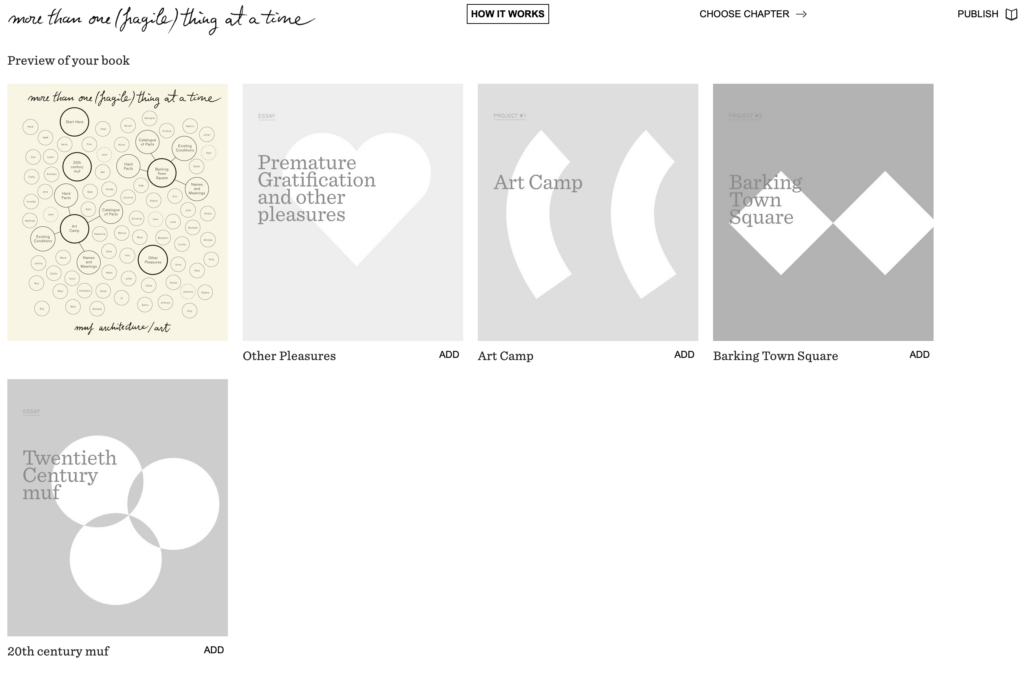 www.morethanonefragile.co.uk
In 2014, with Liza Fior and Katherine Clarke, I made an application to the Graham Foundation for funding to develop a way of making a publication about muf architecture/art that could embody in its structure and method the communal and cross-disciplinary nature of their practice. In this sense, the form would be responsive to the inherent, the tacit, knowledge informing and shaping the practice.
This is what I wrote on the application:
This experimental production combines the potential of digital and print-on-demand publishing for the dissemination of ideas and the provoking of debate, while challenging the conventional commercial frameworks of distribution. Exploring the work of muf architecture/art and their collaborations with artists, writers and designers in London, America and Europe, the inner workings of urban development from a small corner of the UK is explored within a wider global context and from a lateral perspective. muf's working processes are revealed in constellations of chapters including critical essays and interviews that identify and explore social ideas and underlying beliefs, aligning them with an archive of muf and their collaborators build and imagined interventions into the public realm.
The reality that followed achieved some of these desires, produced other ideas and methods, and resulted in a partial description of muf's work at the time.
The projects were to be described by a framework that contained while at the same time making room for interpretation and breaking out of its boundaries, as well as the conditions for simple explanation. These were a bit like chapters that followed a kind of chronology of thought: Setting and Response (briefing and consultation); Catalogue of Parts (design outcomes); Names and Meanings (conceptual outcomes and critique); Hard Facts (statistics and acknowledgements).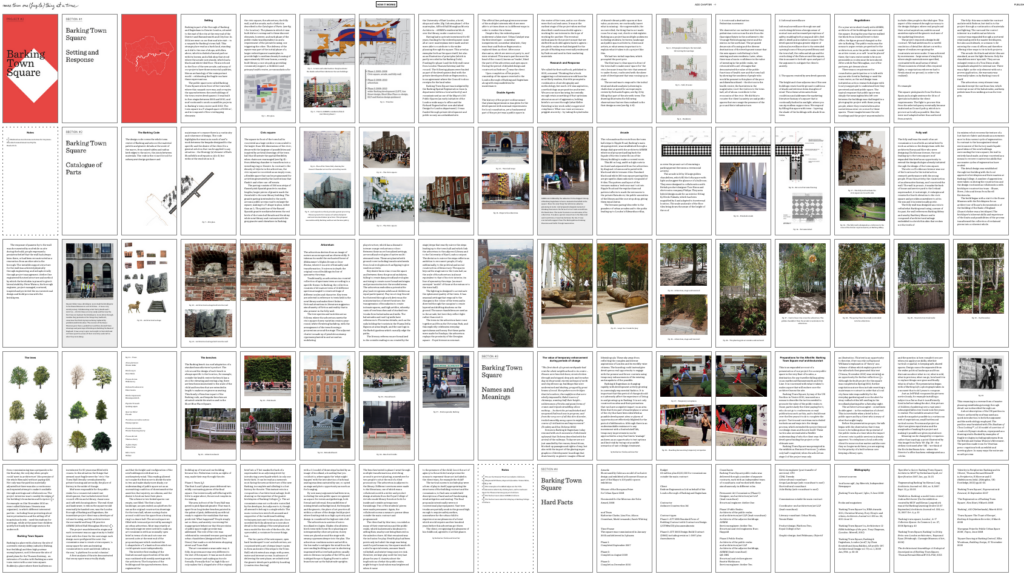 Elements could be selected and gathered into a bespoke publication. In many ways, this is a precursor to the TACK publication platform. Happily, this has many content elements that together make a deep and wide archive that both reveals the quantity of work carried out during the three years of the programme, turning it outwards towards a readership with which it communicates.
Helen Thomas